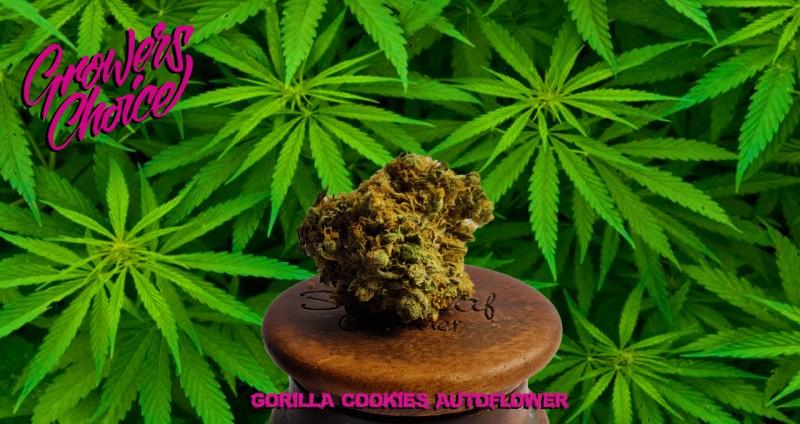 Growers Choice Gorilla Cookies Auto
Strain Background
It was an easy choice to combine two of the best strains and create this new and awesome plant.
The stickiness and heavy smell from the gorilla glue together with the rich and full flavour
of the thin mint girl scout cookies make this strain a dreamer to grow and smoke.
All the best of two worlds into one fantastic strain.
Don't miss out on this one. it's going to be a legend for sure.
The medium tall plant grows like an indica with heavy side branches and a big main cola.
The thc levels are through the roof with an average of 24% and some of more than 27%.
Super strain for daytime and nigh time smoke to relax and get creative.
Bud Review by MrNice
Well the gorilla cookies by growers choice is ok being an auto sometimes they don't match up to there fem equivalent but you can definitely smell the gorilla glue parenting as soon as you pop your jar or break the bud you get a pungent smell of fuel and earthiness that's quite nice the buds are of an olive green colour although the buds weren't too dense just a bit fluffy but ok once you grind them up have to say in terms of seed to harvest this one was on the money for an eleven week start to finish I did take mine a little longer only because I like bit more amber trics myself.
Smoke appeal well as soon as you lite up you can smell that fuel straight away bit earthy and pungent, but as you take a pull you get that fuel flavour running over your taste buds everyone says diesel have no idea but defiantly fuel flavour of some sorts and a little bit sweet to.
I didn't find this strain too strong may be in the 20% range didn't knock my socks off I've been smoking it day and night for couple days now not really feeling too bad on the chair glue side of things still able to get up and get on with stuff mind you I do have a bit of a tolerance lol in terms of feelings its not to euphoric to me a little hazy on the brain but still able to concentrate on your day or just chill watching tv without the feeling of I need to lay down.
The Gorilla Cookies Auto is a 60% indica - 40% sativa
Over all the Gorilla Cookies Auto is quite a nice balanced hybrid not to heavy on your mind or body just enough for you to feel Zen and enjoy your day or evening so all good in my book.
mn