Hello GrowRoom420!

We've been in talk with the guys at Barney's Farm and we've managed to get this competition exclusively for the forum.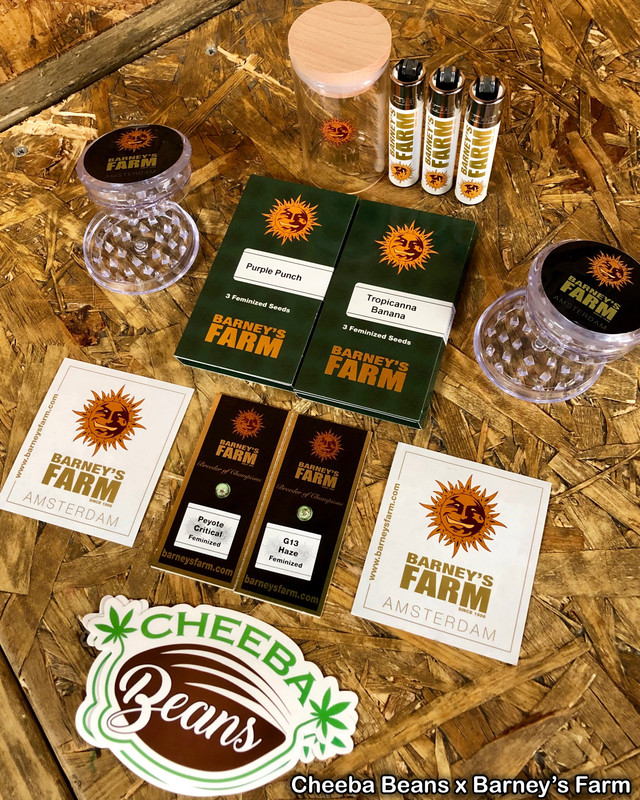 To win the following goodies all you have to do is look at our Barney's Farm range on the web store and let us know strain you'd like to try as well as let us know how the strain would benefit your day!

The Barney's Farm collection can be viewed by following the link: https://www.cheebabeans.com/collections/barneys-farm

• 3x Purple Punch
• 3x Tropicana Banana
• 1x Peyote Critical
• 1x G13 Haze
• 3x Barney's Farm Grinders
• 3x Barney's Farm Lighters
• 1x Barney's Farm Glass Smell Proof Storage Jar
• 2x Barney's Farm Cannabis Strain Posters
• Cheeba Beans & Barney's Farm Sticker Sets

The most interesting answer will land themselves the goodies. They will be one winner for this competition, and it'll run for 8 days so the winner will be announced on the 20th February which will be a Thursday. This is the first competition we have with Barney's Farm in a mini series which will be running over the next few months so keep your eyes peeled!

If anyone has any questions, feel free to ask! Best of luck to everyone entering..