Hey GR420
First grow challenges...
So my sunset sherb and RQS NL were previously showing dark green full of nitrogen leaves 4 weeks into flower, happy days.
Then they started showing signs of nute burn at the tips and the advice was to feed water only for a couple of waters, then half or quarter strength nutes (guano kalong bloom currently, they had the second top dress of guano 1.5weeks into flower).
So one week later and the Northern Lights are getting very pale leaves.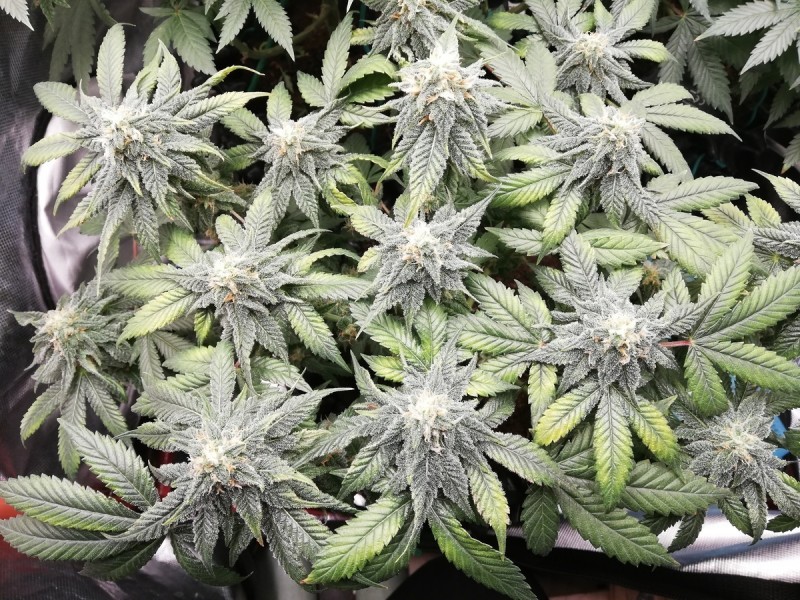 I fucked up because my oscillating fan broke so I had to stick a fixed fan in as a temporary measure. It was blowing directly on the plant that started to pale first, so I thought it was just a bit of wind burn. New fan in place and I realised it was getting worse but prob left it a bit late. The other NL is just starting to show similar signs.
I've now fed the worst one but the other NL is not going to need water for a bit so cannot feed that.
The Sherb is just cracking on:
I've dimmed the light a little as thought it might be light burn, but there's no canoeing of leaves.
Any thoughts? Have I locked out nutrients or is it just hungry after having a week off the nutes?
Any advice would be much appreciated.
Chrs
Tictok